Ugo
(ウーゴ) is a
power user
and a member of
Team Capucho
. He is quite gullible and constantly falls for Soya's tricks, even though he claims he won't be fooled. Soya defeats him by stuffing nattō soybeans down his shirt and squirting wasabi sauce up his nose. He wears a grey hoodie and has red markings besides his eyes. He has the power to turn stress balls into acid.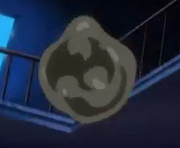 Ad blocker interference detected!
Wikia is a free-to-use site that makes money from advertising. We have a modified experience for viewers using ad blockers

Wikia is not accessible if you've made further modifications. Remove the custom ad blocker rule(s) and the page will load as expected.