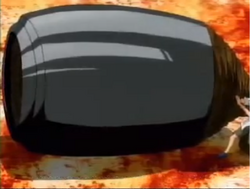 Kurogane (鉄) is the 1-star sacred treasure, gained through consciousness/realization of the fact that the user is a heavenly being. It is a large cannon grown out from the user's arm that fires a large ball at the opponent. For Ueki, a large cannon grows out from a tree and fires a large ball of wooden strands at the opponent. It is first seen in the first intro of the show when Robert Hayden as a child is pointing it at the sky. The first time it is used is in the battle between Ueki and Alessio Iuliano.
Ad blocker interference detected!
Wikia is a free-to-use site that makes money from advertising. We have a modified experience for viewers using ad blockers

Wikia is not accessible if you've made further modifications. Remove the custom ad blocker rule(s) and the page will load as expected.